Posted by Marc Williams, Plants and Healers International Executive Director
http://www.plantsandhealers.org/bamboo-class-with-andy-firk/
Feeling very fortunate to have finally had some time in the flesh with the incomparable Andy Firk! Andy hung out with good mutual friend Frank Cook back in the day. The occasion of our experience together was focused around the wonder that is bamboo.
The venue was Tropical Bamboo Nursery and Gardens outside of Palm Beach, FL.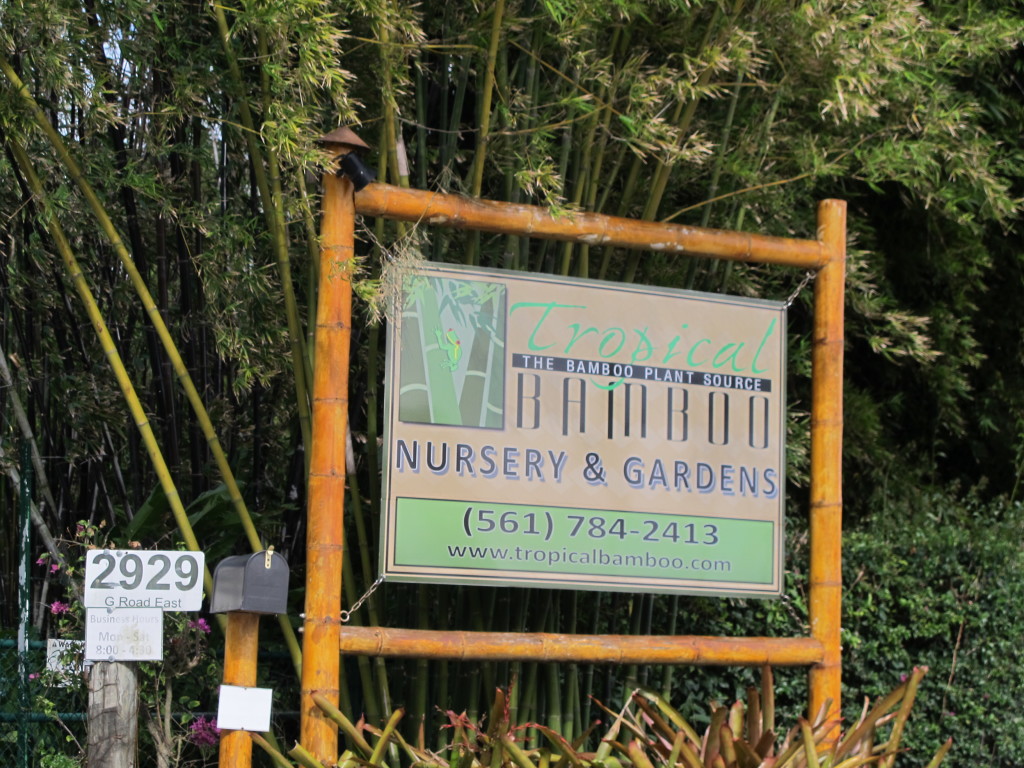 This is Andy's favorite bamboo nursery in Florida featuring over 250 spp. and it is easy to see why. Not only is the diversity breathtaking but the whole place is layed out like a botanical gardens with signage and all. We covered a plethora of uses including construction, crafts, edibility, medicinality, wind breaks, animal forage and aesthetics.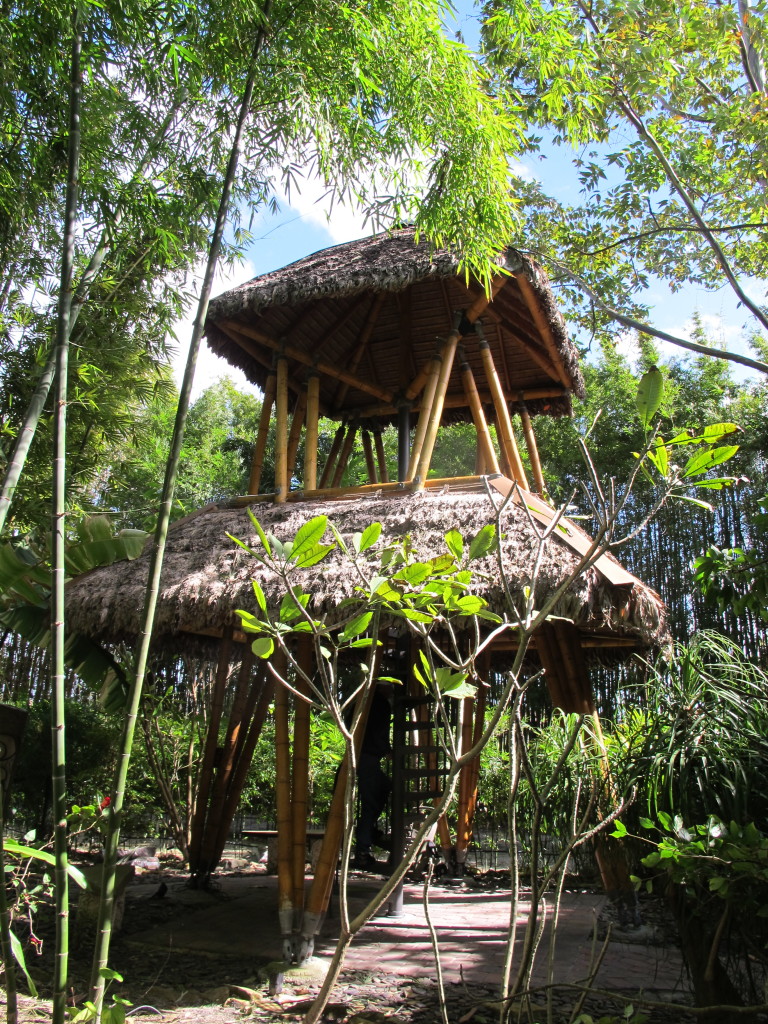 A number of structures onsite feature species of
Guadua angustifolia
which is native to central and south America. This is a favorite bamboo used to make structures at festivals like
Burning Man
and
Envision
by groups like
Bamboo DNA
along with
Dendrocalamus asper
. This Bamboo is naturally rot resistant but Andy shared various methods to enhance this feature from using methods such as borax, neem and soaking in water to remove starch. He also described how in some locales they even soak it in urine or motor oil!
We also talked about the bamboo used to make samurai arrows
Pseudosasa japonica
syn
Arundinaria japonica
. Andy described that the one native bamboo in Florida
Arundinaria gigantea
was used by the Seminole and other tribes in the southeast to make arrows, spears, fish traps, pipes, flutes and blow guns. Interestingly,
Arundinaria appalachiana
was relatively recently described from the
area where i live in southern Appalachia
and this plant or the other previously mentioned species has a long history in Cherokee basketry amongst other ethnobotanical applications.
Dendrocalamus membranacea
syn
Bambusa m
. is also one variety with side shoots that Andy has used to make long lasting vegetable stakes. He has personally done thousands of craft projects with Bamboo and even helped buy his land from this pursuit. In the tour de force led by Andy we covered uses such as these for structures and crafts but many others as well.
Andy really likes to focus on edibility in his explorations of ethnobotanical knowledge and offered forth some of his favorite bamboos in this regard
.
Bambusa oldhamii
,
Dendrocalamus brandisii
,
D. asper
and
D. latiflorus
all made the cut. Honey Bamboo is highly esteemed in Asia but apparently doesn't hold up when compared to the ones previously mentioned. It is very important to realize that some bamboos have copious glochids similar to Cacti and handling the outside without gloves can lead to an experience akin to working with fiberglass. Also important to know is that some edible bamboos can be consumed raw but most need to be cooked. B. odashimae syn
Bambus edulis
is one that is good raw.
Tabashir
is a medicinal product that Andy mentioned which is used both in Ayurveda and Traditional Chinese medicine and can be collected from certain types of bamboo. He also shared the knowledge that
Bamboo leaf tea
is a product being manufactured in the Orlando area as well.
Andy is obviously a wizard with his plant knowledge but also a good networker and sharer of great places organizations and people to spend time with too.
www.tropicalbamboo.org
is the website for the bamboo society in FL and the Caribbean.
www.bambooweb.info
is a great source for pictures. Andy also has lots of
public picture albums on FLICKR
as well! He brought to our awareness the
Mustang Flea Market
in Tampa where one can find all sorts of edible Asian specialties including several kinds of bamboo. For you all in the northern lands Adam Turtle of
Earth Advocates Research Farm
is a great source for cold hard varieties. One thing to factor in with many of these is that they are runner types, read potentially INVASIVE, versus clumping varieties described above.
Bamboo Garden
in Oregon is another great source. The most common type of bamboo where i spend most of my time in Asheville, NC is
Phyllostachys aurea
that falls into the runner category and can easily take over areas especially by water. Joe Hollis of
Mountain Gardens
has attested to its edibility though which is substantiated by the
Plants for a Future
database.
Fargesia
is another cold hardy genus that Andy grows at his other farm up in Ithaca, NY. That farm will be up for sale soon if you know somebody who may be interested!
We also talked about aesthetic beauty as well.
Bambusa lako
is a variety of Black Bamboo that turns pink when cooked. It also keeps its pretty black color when dried for aesthetic uses. Unfortunately, it is not the best in strong winds. Strong winds can be a concern with
Guadua
as well according to Robert from Tropical Bamboo Nursery but Andy has not experienced this himself in over 20 years growing it in Florida.
Guadua
has the added challenge of thorny side growth which can be a big pain to clean up after a storm. One of the biggest varieties we saw on the tour was
Dendrocalamus giganteus
Quail clone which is stunning to look at. According to Andy
Bambusa textilis
probably has more varieties than any other and a number of beautiful varieties were on display in the garden.
We also did not just talk about Bamboo alone. Andy is a connoisseur of edible gingers and he shared the names of other ginger experts Timothy Chapman of
Gingerwood Nursery
and Tom Wood of Ginger's Galore nursery in Archer, FL. Andy holds forth on ginger specifically during other classes. His schedule can be viewed at the
following link
but you may need to be on Facebook to see it. The schedule to date can also be viewed as a PDF here
Bamboo Grove Farm Events for 2016 as of February
and will be updated on the website
www.bamboogrovefarm.com
hopefully within the next few months.
Andy finished the class with a slide show of various bamboos and also considerations for selection such as the aforementioned edibility, medicinality and crafts but also windbreaks, livestock fodder, disease issues and cold hardiness. Monastery Bamboo (
Thyrsostachys siamensis
) is one variety recommended as a windbreak.
All in all Andy offered a truly mind blowing amount of information in the relatively short time of a few hours. All was offered in a very gentle, enthusiastic and humble fashion by donation! i have heard stories of Andy for a couple years now from good friends Mycol Stevens and Eric Lewis and am overjoyed to have experienced him first hand. People can visit Andy by appointment if you want to give a call 863-263-2331. Looking forward to many more great times together in the field and beyond! Here's a link to
more photos
from the day as well…